Valentine Rag Rug Workshop DEPOSIT
£10.00
Rag Rugging Workshop
Join the fabulous Rag Rugger, Margaret Kenny, for a special Rag Rugging workshop to celebrate Valentine's Day    Sat 8th February 2020, 10am-3.30pm
Rag Rugs the exhibition will showcase the work of artist and textiles historian, Margaret Kenny with her new exhibition from 14th January to 23rd February 2020.  The Gallery walls will be filled with her distinctive proggy mats and wallhangings inspired by the land and seascapes of her Northumberland home.
Margaret uses the traditional craft skills of proggy and hooky together with a variety of stitched techniques to create her pieces.  She works exclusively with recycled and found fabrics, reflecting her passion of extending the life and history of each garment or fabric.  Often using old sacks as her base fabric, she may incorporate any lettering into her design and leave frayed areas or holes exposed.
Fee £45, all materials provided.
£10 non-returnable deposit payable on booking.
Book early to avoid disappointment.
Margaret says:
"The techniques of rag rugging are very freeing and allow me to create pieces organically with most of the design happening at the end of the hook.  I let each piece develop without using a formal or detailed design which means I can respond to the change of the seasons, the patterns of sand on a beach or the unexpected way a piece of fabric behaves when cut".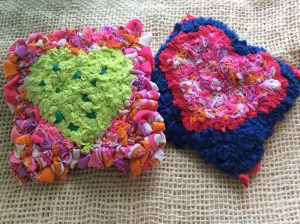 Fee £45, all materials provided.
Inclusive of a £10 non-returnable deposit, payable on booking below..
Book early to avoid disappointment!