Talk by Kathryn Ferry Thu. 28 April 2022
£8.00
Deckchairs, Piers and Souvenirs:
A Celebration of British Seaside History
In this talk historian and author Dr Kathryn Ferry takes a whistle-stop tour through three centuries of seaside history using the 100 favourite holiday objects featured in her latest book. Encompassing buildings, piers, transport, souvenirs, foods and fashions Kathryn explores how the layering of all these different elements has created the distinctive landscapes of our coastal resorts including those in Northumberland.
Pull up a deckchair and join her to find out all you ever wanted to know about sticks of rock, sandcastles and donkeys!
Kathryn Ferry is regularly seen and heard on TV and radio and after her talk will sign books, including her latest: -'Seaside 100: The History of the British Seaside in 100 Objects'.
Thursday 28th April 7pm St James' URC, Pottergate, Alnwick NE66 1JW.
Entrance £8  includes wine and nibbles. Doors open 6.30pm.
Early Booking  strongly advised. 
NB Price is £6 to Friends of Bailiffgate and members of Alnwick Branch of the NDFHS if they book  using the special coupon code which they will be sent.  In the event that Covid restrictions prevents the talk taking place in person, it will proceed by Zoom instead.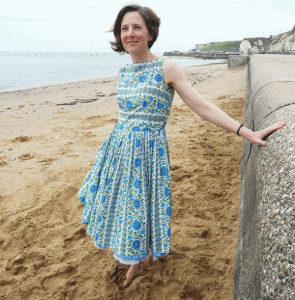 Availability: 36 in stock