Join the Pants Challenge and make a Splash
Posted: 28.08.14
There have been Pants in Alnwick for more than 400 years. St Michael's Pant is still flowing more than 250 years after it was built. Now Bailiffgate Museum are looking for teams who can build a pant for today.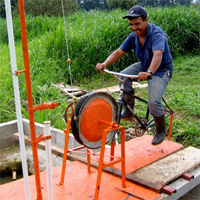 The challenge is to construct a device that lifts water from one level to another, then delivers it through a spout. You can use whatever materials you can scrounge.
Entries will be judged, on Saturday 13th September in the Market Place.
Special recognition will be given for ingenuity and entertainment value.
After the awards ceremony the Pants will be displayed in the Museum as a feature of a special exhibition on the Pants of Alnwick - which will run through September and October.
The challenge is open to all who would like to make a splash. There is no restriction on age (or youth). We hope to hear from teams who come together for work, study, social or sports activity, who share a common interest, who know each other well, or want to get to know each other better.
We don't mind whether your device is large or small (though you may want to consider how it will be transported into the museum).
So far we have only thought of one rule: NO MAINS ELECTRICITY TO BE INVOLVED.
To enter :

Just email your Team Name, Team Organisation (if any), your "Chief Engineer" and a contact tel or mobile number to ask@bailiffgatemuseum.co.uk asap marking your e-mail "Pants Challenge"