2021 Family History Programme
Alnwick Branch Northumberland and Durham Family History Society
2021  Evening Meeting Programme
You will find a  wide variety of topics in our programme for 2021. We try to stimulate an interest in all areas related to Family History, not just in the activity of researching one's own ancestors. Meetings begin at 7.30pm at Bailiffgate Museum, usually on the first Tuesday of the month. All are welcome, whether members of the NDFHS or not. 
The following programme is, of course dependent upon a relaxation of current government restrictions, but is planned as:
Tue 20th April   "What I learnt in Lockdown"-  (E Mail Discussion)
Monday 17th May  Sarah Taylor of the Jorvik Group  "Viking Families" 
Tue 1st June  Pat  Littlewood  "Postcards- The Original Social Medium"
Tue 6th July  Stephanie Yearnshire  "The Eccentric Brontes"
Tue 7th Sept. David Welsh and Mike  Barke  "Crossing the Border"  
 Tue 5th Oct.  John Yearnshire "Grisly  Crimes, Hard Times" 
Tue 2nd Nov  Neil Storey  "Northumberland in WW2"
      -----------------------------------------
  All  normal Meetings at  Bailiffgate Museum 7.30 pm .
Open to All.  Refreshments.*
 * Donation Invited from Non-Members
    See our Family History Introduction Page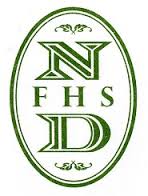 Note: The Alnwick Branch of the NDFHS is based at, but not a part of Bailiffgate Museum. If you are not a member of the NDFHS you will be invited to make a donation towards  branch costs for attendance at any meeting, training or research conducted.
For more info, please get in touch with familyhistory@bailiffgatemuseum.co.uk