2019 Family History Programme
Alnwick Branch Northumberland and Durham Family History Society
2019 Evening Meeting Programme
You will find a  wide variety of topics in our programme for 2019. We try to stimulate an interest in all areas related to Family History, not just in the activity of researching one's own ancestors. Meetings begin at 7.30pm at Bailiffgate Museum on the first Tuesday of the month. All are welcome, whether members of the NDFHS or not. 
Tue 5th  March 
Diana Whaley  "Northumberland Place Names  -Alnwick and Beyond'   
Tue 2nd April  
Hilary Waugh  "Putting on the Ritz"
  (Coincides with major  Bailiffgate costume exhibition)
Tue 7th May  
Member Discussion   "My Most Interesting  Discovery"
Tue 4 June 
Douglas Burdon " NDFHS Coquetdale Wills Project"
Tue 2nd July  
Mary and Dudley George "Alnwick's Cholera Families"
Tue 3rd Sept.
Hilton Dawson  " The Newbiggin Genealogy Project "    
Tue 1st October   
James Perry  "Using Family Search"   
Tue 5th Nov 
Andy Griffith  "A Posse  of Percys " 
  All  Meetings at  Bailiffgate Museum 7.30 pm .
Open to All.  Refreshments.*
 * Donation Invited from Non-Members
    See our Family History Introduction Page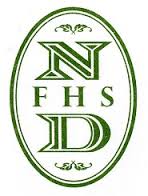 Note: The Alnwick Branch of the NDFHS is based at, but not a part of Bailiffgate Museum. If you are not a member of the NDFHS you will be invited to make a donation towards  branch costs for attendance at any meeting, training or research conducted.
For more info, please get in touch with familyhistory@bailiffgatemuseum.co.uk